How Can Your Facility Benefit from Air Hand Dryer Installation?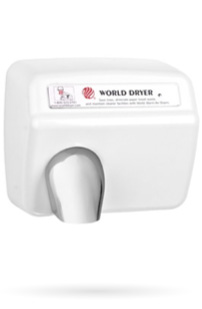 Are you debating between the benefits of paper towels and air hand dryer installation for your facility? Wondering how dryers stack up, and what benefits you might find with them? There are quite a few advantages to going the electric route, and we'll explore some of the most important below.
Less Bacteria
Sure, there's been a lot made about hand dryers simply blowing bacteria around in the bathroom. However, it's not quite so simple, particularly if you consider using a dryer with a built-in HEPA filter. The air blown out of the dryer is first sucked in through the filter, ensuring that bacteria, viruses, mold, and germs are caught and trapped. In this sense, dryers help to clear the air in your bathroom.
Power Savings
While modern air hand dryer technology has become more powerful than ever before, the fact is that today's models use only a fraction of the electricity that their predecessors did. This means that you get far better performance, shorter drying times, and better reliability in a package that costs far, far less to use over time.
Improved Performance
We've already touched on the improved performance offered, but let's break things down a bit more. Old-style dryers might get your hands mostly dry within 20 or 30 seconds, depending on just how wet they were. In comparison, some of today's models are capable of drying hands in as little as 10 seconds. That's a threefold reduction in drying time.
Reduction in Restroom Management
How much time and money is spent by your facility on restroom management? How often does the trash need to be emptied? How often do the paper towels need to be refilled? How much space is dedicated to storing paper towel cases for replenishment? With hand dryers, you can cut down on all of those issues, reducing costs, improving space management, and free up time for other tasks.
At World Dryer, we focus on designing and manufacturing powerful electric hand dryer models that offer industry-leading performance with outstanding power savings. We're proud to be GreenSpec® listed and a member of the US Green Building Council. Visit them online to learn more about products, or for assistance finding the right dryers for your specific needs and budget.