3 Things To Keep in Mind When Thinking About Installing a Hand Dryer in Your Business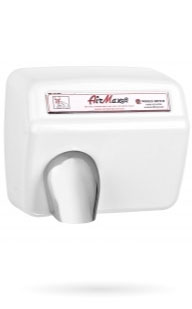 It might not always be pleasant, but thinking about restroom use and maintenance is necessary to ensure a business or institution functions properly. Part of that maintenance is considering how to encourage restroom users to wash their hands to promote a healthy environment. Naturally, when people wash their hands, they are going to want to dry them. So how will you provide drying opportunities? A smart choice is an air hand dryer, which eliminates paper towel waste and can be more cost-effective than paper towel dispensers in the long run. While you search for the right dryer, here are some helpful things to keep in mind.
1. Range of Choices
Different businesses will have different needs for their restrooms. For example, a venue that serves a large number of people, like a sports stadium, will have different needs than a smaller place like a family restaurant. It is important to keep in mind your business's specific restroom requirements when searching for a company that installs air hand dryers. Maybe you are searching for a hand dryer that is fast-drying, or maybe you need a dryer that is vandal-resistant or ADA-compliant. Be sure to study a merchant's available models to confirm they will be a good fit for your business.
2. Warranty
You are investing in your business when you make an installation, and you want to know that investment will be protected. Does the merchant offer a warranty on their product? How long does the warranty last? Are there any exceptions or different terms for certain parts of the dryer? Once you have determined the details of the warranty, be sure to find out if there are any steps you need to take to validate it, such as registering the product warranty with the company, and how to complete those steps. For some companies, it is as easy as registering online by providing contact and purchase information.
3. Going Green
By installing an air hand dryer, your business can potentially qualify for a Leadership in Energy and Environmental Design, also known as LEED, credits. To take advantage of this opportunity, you want to research for a company that can provide products that can help you earn those credits. There are some accreditations available to companies who want to ensure their products meet certain environmental standards. The U.S. Green Building Council, GreenSpec, and the Green Restaurant Association are all organizations that offer accreditations to businesses or products that are environmentally friendly. When you take a look at potential merchants, be sure to ask about their accreditations and any accredited products they offer. For more information, visit Worlddryer.com.